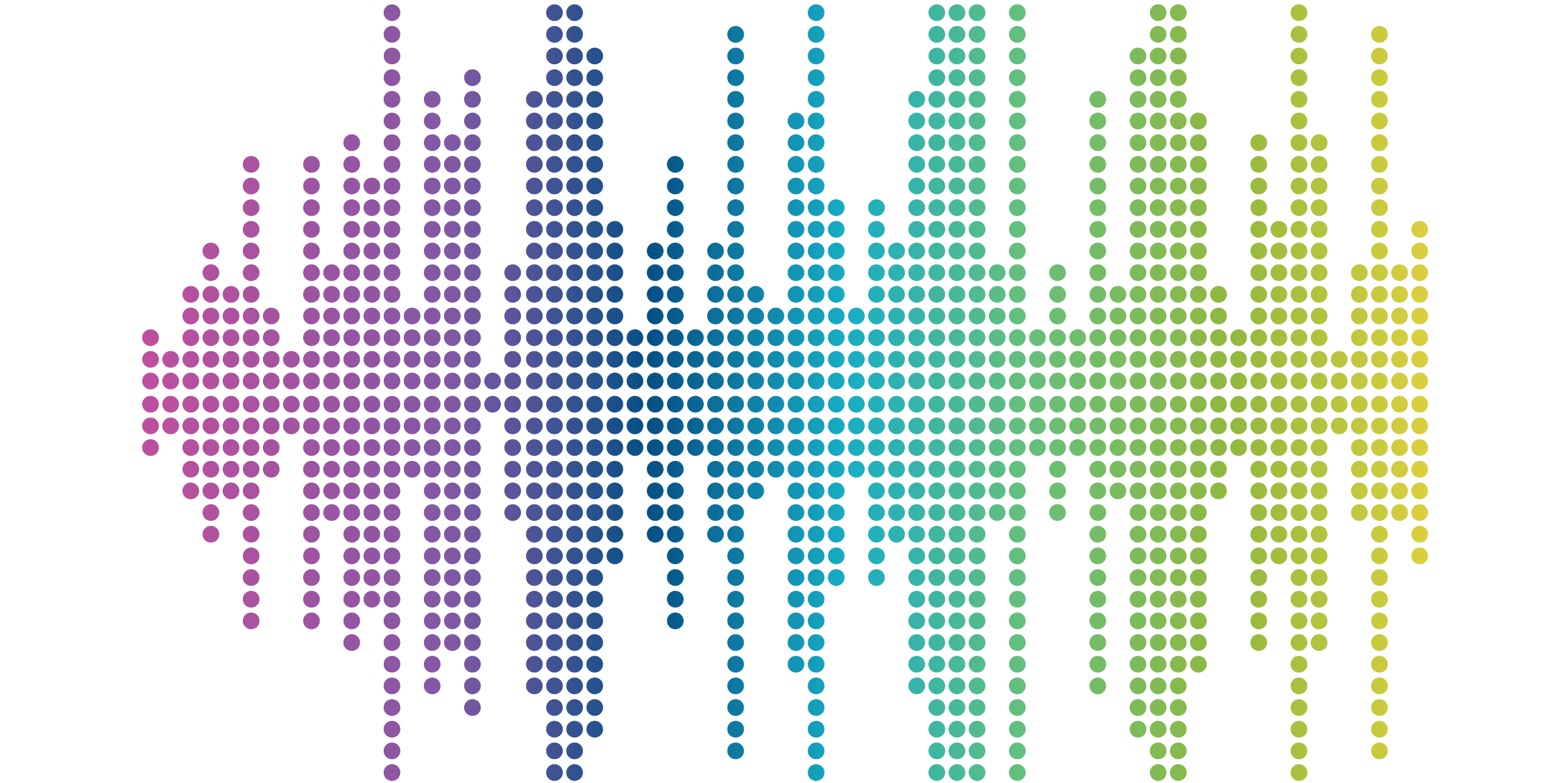 Purpose-driven AI: How Sandstorm Used AI to Empower Chicago Youth
Celebrating Strength, Diversity & Inclusion
Sandstorm recently held its inaugural #SandstormSummit in Chicago, where the entire team gathered together for three days of collaboration, learning and lots of fun. Each day we spent together was driven by one of our core values:
Create Joy
Be Curious
Warrior Spirit
In celebration of our third core value: Warrior Spirit, our team worked together to design and construct over 200 coloring book kits for the inspiring Metro Achievement Center for Girls. Our team's ideation and collaboration resulted in a custom-designed Girl Power Coloring Book, which is a collection of beautiful illustrations celebrating the strength, diversity, and potential of all girls. Each page was carefully curated with artificial intelligence depicting girls in various roles and settings, highlighting their resilience and ingenuity, and showcasing their limitless potential. 
Celebrating diversity and inclusion is part of our every day and at the core of our UX work. Our project began by inviting everyone at Sandstorm to submit their ideas around the concept of "Girl Power". Leveraging ideas from all departments allowed us to gather a variety of perspectives and ensured the images created were diverse and inclusive – and it was super fun!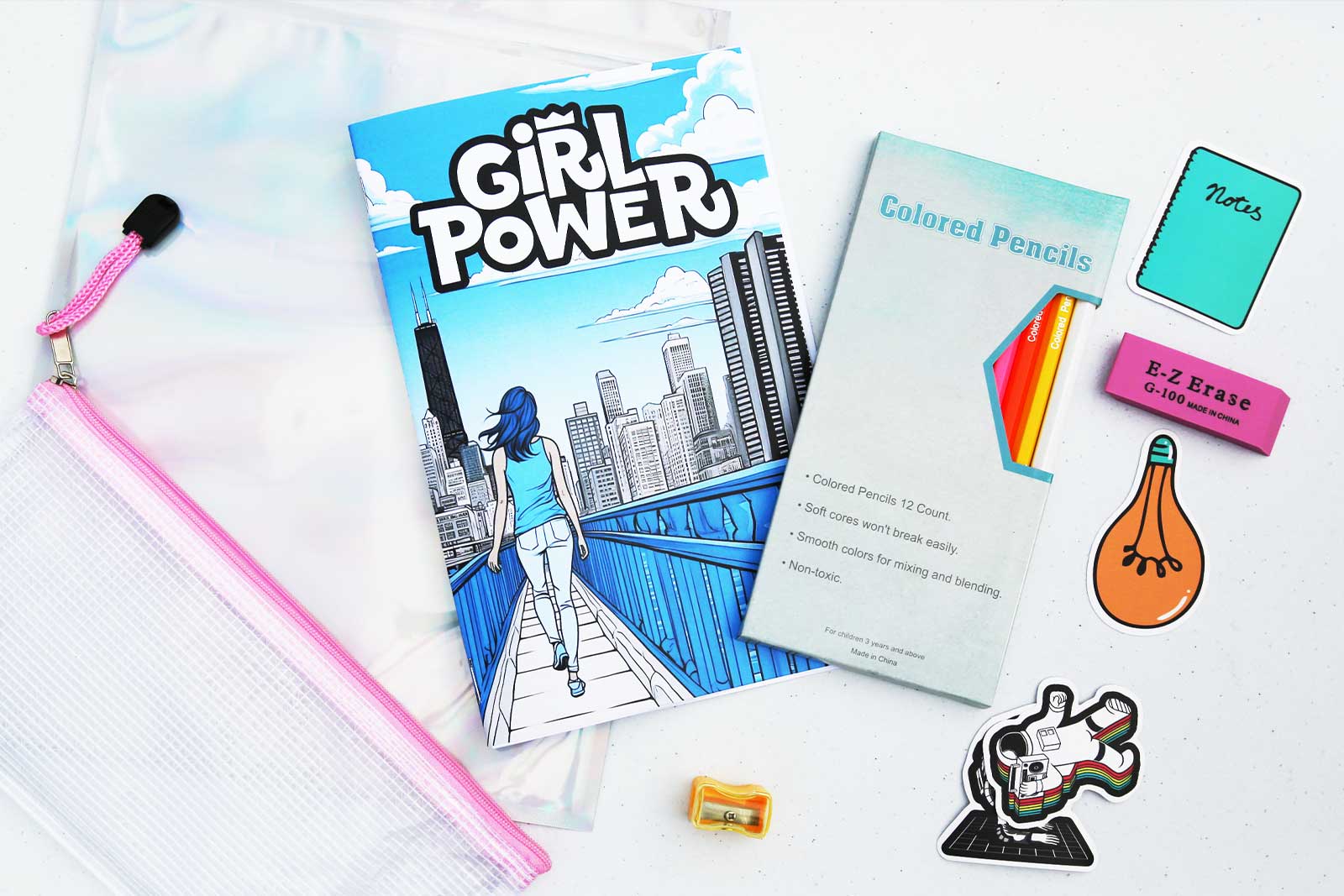 Why Artificial Intelligence?
Faster Ideation and Iteration
Sandstorm is filled with creative people, but we're not all illustrators or designers. To help bring our vision for the Girl Power Coloring Book pages to life, our go-to AI tool of choice was Midjourney.
Midjourney gave our team the ability to quickly turn our ideas and words into images. Rather than needing to specify a limited amount of ideas that would then be created as the final product, our team could quickly type in a few words into the prompt, see if it was working, and then pivot to another idea. Once we selected the desired images, the output was then further refined in Adobe Illustrator to create clean vectors – perfect for printing. I can't even tell you how many times we reworked each image to get it just right!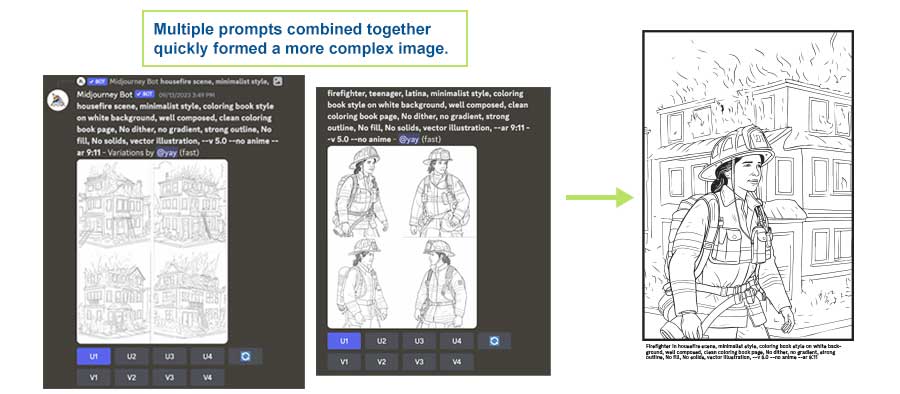 Content Creation Support 
Our coloring book also required some content so we leveraged ChatGPT as a starting point. It was able to quickly generate our initial content which we then refined.
While we could have written the content manually, ChatGPT allowed us to generate different versions of our content quickly and then select the best to edit. We wanted our coloring book to include a description of how AI image generation works, the technologies we used to create the book, and how they can do the same (see below).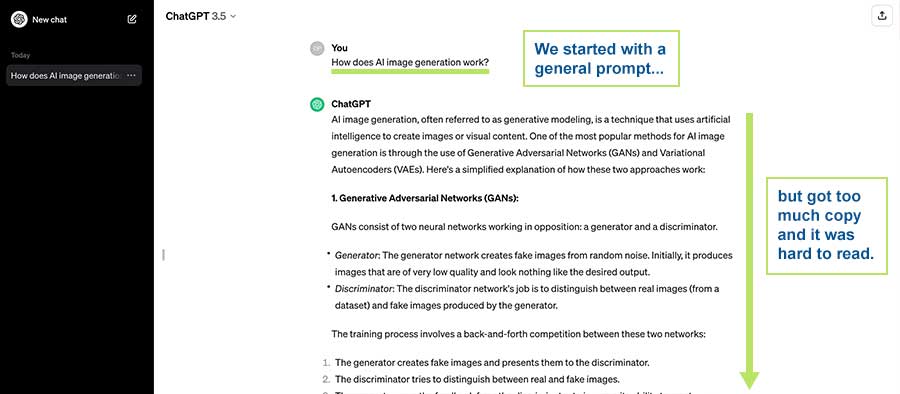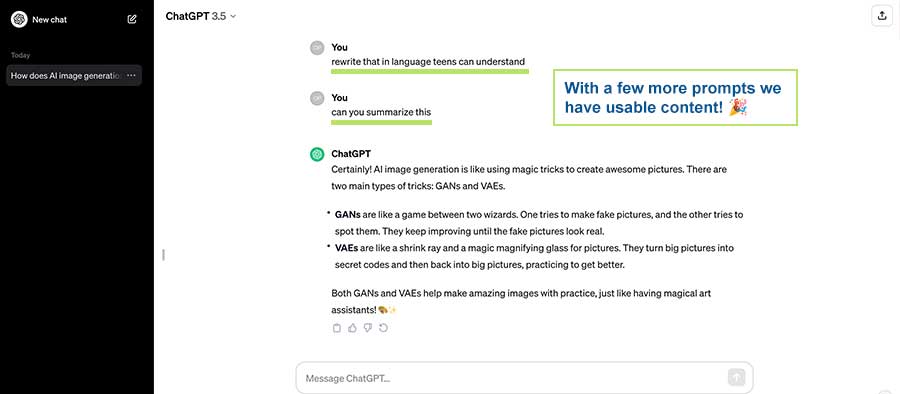 A Balance of Art and Science
At Sandstorm, we love experimenting with new tech and encourage others to embrace it too. One of our goals was to expose more teen and tween girls to the power of AI in a fun way – igniting curiosity and creating joy (two more of our core values). 
Each image within the book included the prompts we used to generate the image. These prompts can be entered back into Midjourney or any other image generation AI to create new images or get remixed, encouraging those who receive the coloring book to explore both their artistic side and the technology.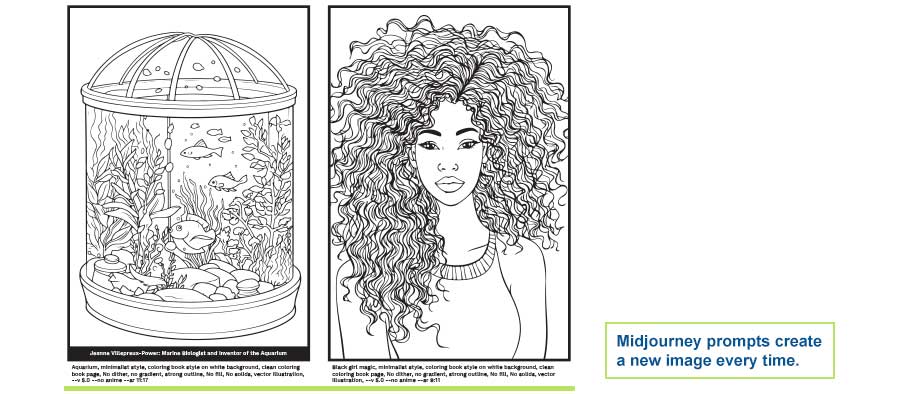 Girl Power Coloring Book Objectives and Impact
Fostering Self-Confidence
This coloring book provides a canvas for girls to explore both art and technology, instilling a sense of confidence that will serve them well in all aspects of life.
Breaking Stereotypes
Through the diverse range of illustrations, this coloring book challenges traditional gender roles and stereotypes. It empowers girls to envision themselves in any role they desire, whether it be a scientist, an athlete, an artist, or a leader.
Encouraging Big Dreams
Every page of the Girl Power Coloring Book is a reminder that dreams have no limits. It encourages these young girls to dream big, to believe in themselves, and to strive for greatness.
How You Can Help in Your Community
Spread the Message: Share the Girl Power Coloring Book on social media, in your community, or among friends and family. Together, we can create a movement of empowerment.
Donate Supplies: Art supplies, coloring materials, and sketchbooks are essential for this project's success. Your contributions make a tangible impact on young girls' lives.
Volunteer Your Time: Organize workshops, events, or assist with other efforts. Your time and expertise are invaluable.
 
The Girl Power Coloring Book project is a beacon of hope and empowerment for urban girls in Chicago. Through the pages of this coloring book, we're not just providing colors, but also the tools to paint their own futures. Together, let's celebrate and uplift these incredible girls, ensuring they know that they are capable of achieving anything they set their hearts on. Here's to a future filled with limitless possibilities!